FOODSTOCK 2012 this Saturday!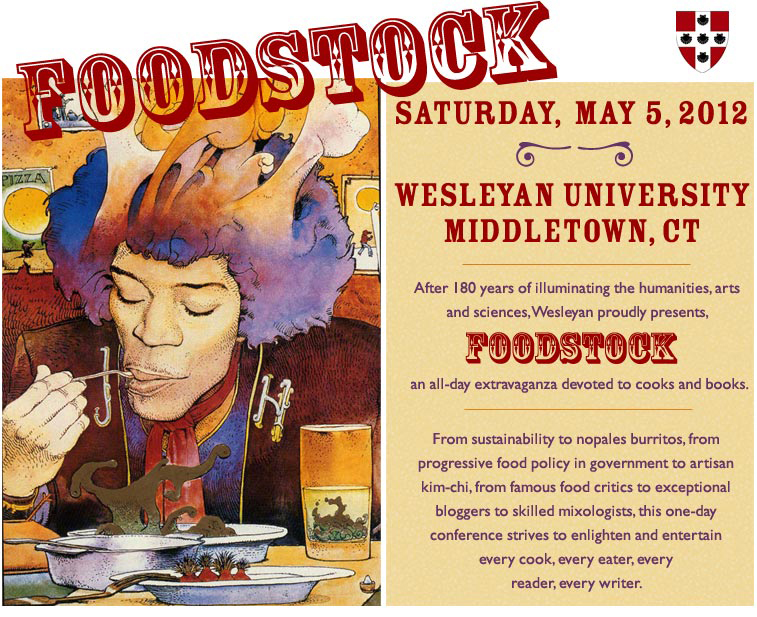 Can we be honest? I would attend any event with a promotional poster as cool as this one! As it happens, I'm lucky enough not only to attend FOODSTOCK this weekend at Weslyan University in Middletown, CT, but to be part of it! I hope you'll join me for this awesome day of talks, panel discussions, workshops, book signings, a farmers market and much more.
Join me, Ariana Bain and Christopher Prosperi at 3:30 for our panel discussion, Sustainable Cuisine. And click here to check out a complete schedule of events for the day.
Other speakers and guests include:
Dorie Greenspan * Ruth Reichl * Molly O'Neill * Faith Middleton
and many more!
FOODSTOCK is free to attend and open to everyone!
Donate a non-perishable food item at registration, and receive a FREE raffle ticket. All donations will go to Amazing Grace Food Pantry in Middletown, CT. Nonperishable food items are always sought after by the food pantry, in particular, tuna fish, peanut butter, soup, canned fruit and vegetables, cereal, beans, rice, and pasta sauces.
See you at FOODSTOCK!
Eat clean live well!